Sunshine
Administrator
Member Caelestus
since 06-25-99
Posts 67715
Listening to every heart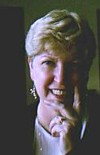 | | |
| --- | --- |
| 0 posted 12-20-2003 11:15 PM | |
---

I rarely post in the Alley, for after an hour, or a few, or getting into a tomorrow…my rants simmer out, and what was irritating yesterday is but a pimple today, that with a little cream in my coffee, will most likely disappear.

So this may not seem like a rant. More like an observation.

I recently visited geographical areas that are hungry for a "good life" beyond what they have. Yet they do not, in public, gripe about what it is they do not have – they are merely [on the surface] grateful. They express a strong belief in God…and they know that it is still within them to survive, and live what they call, "a good life".

In the last few weeks, I would give up SO much to live their good life.

No taxes.
Nature's reality.
A history that surpasses ours.
Surviving on one's ability…[and trust me, I know how to grow things, and survive.]

But so many of today's younger people would not know what to do without…

A cell phone
Credit card[s],
Toys that are a precursor to their own imagination
Two cars [or more]
Instant gratification
Open wallets to college

And yet, there are young people whose parents are not so well off, but still succeeded in that they gathered up

Great books and a sense of values
Common sense
Work ethics
Scholarships [and pay off their loans]
Etc.

I have seen people who literally came from the bottom up…and they do not worry, today, for the decisions they made based on reality, and their own smarts.

I have seen people who were born with a silver spoon in their mouth, who have abused their privileges, and are now wondering why daddy didn't bail them out.

I have seen people who were abused, turned around and abused the system, and are wondering why daddy IS bailing them out…

Suffice to say, as it has been said before and before, just read some history, the world is a mess.
But is it?

So many literal minded people are present here in these forums. Much more intelligent and well-read than myself, and I acknowledge that I cannot and probably will not read all that is important to the world, before I am no longer here. But I try to keep up. I try to know what is going on in the world, while not focusing on any ONE event, but all events, while working a full time job, and while, at this age, trying to "find myself" and "please myself" with my little wants and desires.

And I wonder, still, how I can make the world a better place.

So, bottom line, the purpose of this Alley issue, is …

How WOULD YOU make this a better place? Can it be done? While utopia may never be met, is it REALLY so far-fetched that we could not strive for a world of understanding? Is it our genes that tell us that we need to be hard-headed and that OUR way is the ONLY way? Why is it that we fail in trying to understand that there are so many cultures, we shouldn't be accepting of all?

I know, deep in my mind, why. But I would truly like to understand it from a world-wide poet's input. And I expect that this may/could get a little heated, so ergo, the Alley.

Tell me why, my poet-people friends, why it is, we cannot find a good reason to put Peace on Earth.