Alexia


Senior Member
since 06-07-2001
Posts 626
Sweet And Sassy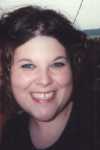 | | |
| --- | --- |
| 0 posted 01-18-2002 11:04 PM | |
---
she said I would not understand ...
Yeah well thats exactly how I feel right now,
no one understands how I FEEL! I mean, I go to have fun, my friend lies to get to go right? yeah well
that wasn't such a good idea because her mom found
out and stuff .. and I found out .. and UGH! I get
yelled at. And my parents don't believe me.
I wish my parents would just let me do as I please.
And the guy I want I know I can't have! which is so
unfair, I'm just about in love with him, I've know him for like 6 or 7 months. He moved to texas though, but we still talk on tha phone. I miss him so much, I could talk to him about anything. And then he moved away on me ...
and then on another subject,I hate people that are
stuck on themselves. I mean, gosh its another thing to have high self confidence but then its totally different when your like, I'm sorry you can't see me, because I know you want to cause i'm so hot.
This girl said that to this guy, and she things her crap don't stink, well let me tell you, she needs a shovel b/c that *ship* is gettin pretty deep. And I hate it when you post something, not in here its in a different form that will remain confidental, that I get so ignored when I posted something, everyone just over looks me, and I do agree with everyone that says PIP has its Cliques, because it does, its like here's all these people that are stupid and here's tha people that thinks there better than everyone, and I HAVE ALOT of names that could go on that list. OH AND one of my sisters friend had tha nerve to say that we were to loud, JUST BECAUSE WE LIKE TO HAVE FUN, AND YELL AT GUYS IN CRAP! She can kiss my big white arse. GRRRRRRR . .. I called her a stupid dumbarse beeotch, and a few other words, to her face because she has no right to judge me OR my friends, like that. Shes a self concieted,imature 18 year old that needs to grow up and quiet bein stuck up her mommy and daddy's ass 24/7. EWWW GOD!
I need a punching bag right now, I have so much angry for alot of people, that I have to do "certain things" to help me be calm, and i'm not to proud of it. Its addicting the first time you do it. like drugs, alcohol .. I turn to all the wrong things. I just wish I could stop, but yuh know when you try its extremely a hard thing to do.

Peace

Please try to give me some advice on things that you think you might be able to help me on.