Allysa



Member Elite
since 11-09-1999
Posts 2310
In an upside-down garden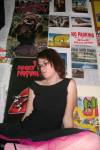 | | |
| --- | --- |
| 0 posted 08-09-2015 10:35 PM | |
---
She knows
the streets of that city
like the lines of her hand
their paths crossing at intersections
she still sees in her head

when her mind goes flat
and her eyes close
the city spreading before her
like an outstretched palm
she imagines
the cobblestone streets and
the buildings with their
wrought iron balconies, all different

large Xs adorn the houses
like crucifixes knocked askew
the scars of another time
reciting the prayer of the city
when they crossed themselves
in the name of the new day,
of the dead and the living,
and the rescue teams
never to come

she walks this labyrinth slowly
kicking her feet through the trash
following each line until it meets another
the memories exploding
like tiny car crashes in her head

sometimes-
even though it's been

seven years

since the last time
she breathed the city air
stiff with the smell of the river
the bodies gorged on water
the sewage-

sometimes,
if she thinks hard enough
she can still feel it.

The smooth stones beneath her feet
the way her bamboo sandals
wrapped around every groove
sticking in the cracks with each step.

How,
when she closed her eyes
she could see the water
rising up through the wards
up through the streets,
up to the quarter it never touched

just as quickly,
it washes away
taking with it the photographs
the discarded plastic cups
the walls and insulation that couldn't save them
the shingles and attic treasures
that solidified their fate

when it all disappears
she is left with nothing more
than the way the warm September air
wrapped her in its arms
like a hug from her
long-dead grandmother
the gusts filling
her lungs until
she chokes.