Brian James
Member
since 06-26-2005
Posts 147
Winnipeg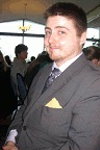 ---
He started out as a penguin. Difficult to walk, impossible to fly. Surrounded by birds. Swimming was what he did best, but he didn't enjoy it. So he sat there by the water, crouched over, hopping instead of walking.

Once he was much older, he found that he was no longer a penguin, but had become a frog. Sitting on a lily pad, eating flies, croaking with his pondmates.

But they started leaving. The pond became colder than it had been before. And the frog had to leave, had to become something else.

Now it's the middle of the night, and he's colder than he's ever been. But he's growing fur. How can this be?

He started to sing softly to himself, a song that he once knew. But the words were different.

"My Father's Face"

I had to tie a tie today
Although I'd never tried
I thought perhaps my dad would know
For all the ties he's tied

I tried the tie to tie today
Looking in a mirror
I rubbed away the shower steam
So that my face was clearer

Those cheeks are his, those cheeks of mine
That mouth spoke, I complied
I tried to tie a tie today
Something I've never tried

The eyes, they have it, and they strained
To reach my understanding
The way that nose sneered at my effort was so
Reprimanding

Nothing gained I gave it up
The two of us alone
Two ancient riddles, uneaten lion corpses
Made of stone.