Brian James
Member
since 06-26-2005
Posts 147
Winnipeg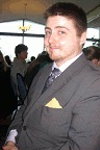 | | |
| --- | --- |
| 0 posted 09-11-2006 02:41 AM | |
---
In Lieu of Mourning

I never usually see grass so tall
As what it's like out here. You know, I told you
I've never dug a grave before, and you
Can tell just by the way I move my limbs
I'm unfamiliar with the way they work,
Or maybe just distracted by my task.

We came a little further, like you said,
A little further from the place we once
Lay down together, and looked up at the sky
At spinning ghosts of ice (you'd said to me
They were more frightening than you'd ever seen)
While laying on the picnic blanket where
I learned to love the wonder in your eyes,
And the attentiveness with which you laugh
When something brushes up against your skin.

You might have laughed the same when, as a child,
You came here with your friends for games of tag,
Tripping on shoots of grass or, in the winter
When you came to build castles in the snow.
Likewise, you might have frowned just as you're doing
Watching me with your dark collectiveness
When, as you told me, once you took two birds
That you had found drowned in a swimming pool,
But with a plain and playful honesty
You carved a resting place in this same field
And gave them such a dignified farewell
As would be fitting for a Christian soul.

Don't think me careless if I truly feel
Less horrified to lay her in her grave
Than I am mesmerized by the eternal
Child-likeness in your youngness to the world,
And do not think I'm being insincere
Or merely comforting you when I say
I've always loved you, and I always will,
In no small part because of times like this,
When you're so struck by God's eternal grandeur
That sadness is the only honest answer.