Allysa



Member Elite
since 11-09-1999
Posts 2307
In an upside-down garden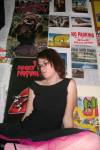 | | |
| --- | --- |
| 0 posted 04-09-2006 12:08 PM | |
---
We got yelled at when we tried to wake
his younger brother, sleeping in the hotel
room, where his mom asked for a window
so we could at least have a view of something,
preferably the city, though, we got a courtyard
full of metal rods and building blocks.

We were going for a drive,
across a river, maybe?
I think we crossed a bridge
or maybe it was an overpass
I'm not quite sure now

And this is the part I haven't told
anyone, not even my family, or those
who asked me why I didn't take pictures
for some reason they were mad because
I took pictures at the Audubon Zoo
I took pictures on the streets of the Quarter

But I couldn't take pictures there .

And if you actually saw it, you would
understand my discretion, I was paralyzed
by the idea that someone would have to come
home to see their houses like that, with the
watermarks up to where my shoulders would be

Most of the buildings, on this side of town
were decorated with signs displaying messages
warning that looters would be shot, that
trespassers would be shot, it was a shoot now
ask questions later kind of situation with
broken windows and boarded up doors

There was a boat in the middle of the road.

And some people might find that interesting
some people might feel the urge to snap
pictures of random houses falling into bodies
of water and streetlights bent at a ninety
degree angle of impossiblity, but, well

You see, these are not models of cities
where people do not matter and everything is
something created inside of a fanatasy land-
these are real people, and those are their homes
and you cannot understand the impossibility
of this by viewing it through a camera lens

You have to see it for yourself, or not at all.

And I am not one of those people, and I am sorry
to disappoint, but when you ask me to see
the pictures that I took, you will see elephants,
small children climbing a very large tree, and
Jackson Square, which, apparently is uninteresting
because it's not what they wanted to experience.