Allysa



Member Elite
since 11-09-1999
Posts 2307
In an upside-down garden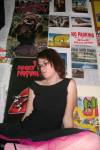 | | |
| --- | --- |
| 0 posted 04-08-2006 03:25 PM | |
---
The walls of this room are empty
and if she had a pen, she would
scrawl little words of understanding,
some memories, some sentiments, some stern
sentences directed at the people who fake
feelings, the people who only saw
what she saw over their morning cups
of black coffee as they half-heartedly
watched the news, talking later about
"the horror that is New Orleans", but

Talk to anyone I've met and you will
find that they would rather tell you
about their family, their favorite drink
or the right way to fix shrimp than
what it feels like to go home to find
that home isn't exactly how you left it
not quite what you remembered, I don't know
what it's like when everything's disappeared,
what was it like, I want to ask, in hopes
that she'll tell me about a younger her.

She smiled, once, our knees brushing under
the circular tables of the outdoor cafe
as she told me about when she grew up there,
she pointed out the beautiful dresses in the
shop windows as we walked, recalling her days
of Mardi Gras, ever since she was a little girl,
probably about six years old, eating beignets,
powdered sugar all down the front of her lap,
"It's how you can tell," she told me,
"That's how you know you've had a good night"

And I can see her in my eyelids when I stop
trying to frantically look around, she is
sitting on a rocking chair on the front porch
of a house that may not look important
but it is, and she is staring at the sky where
sometimes, it's different than anything I have
ever seen and she is trying to recall all that
she feels that she forgot, the people and places
the years, and all of the experiences that
have made her the woman she has always been,

A woman who grew up in a small house in
Baton Rouge with a bunch brothers and sisters
half of whom I've never met and she tells me
stories of watching TV when she was younger,
it would cut out every time a train would cross
the tracks in her back yard and, "see that light?"
the one in the very back corner, she used to have
her boyfriends shoot it out with BB guns, so she
could sleep at night, she told me all of this
as we drove around, looking at what was left

And there's water, water everywhere and not
a drop to drink, she thinks "It's getting old,"
hearing that everywhere, from everyone
every time you turn your head to look
someone is saying something that she doesn't
want to hear again, too busy trying to
figure out what room she left her memories in
they're swarming around inside her head,
a million stories ready to explode, and
sometimes, she feels she will break-

You see, unfamiliar voices say Toulouse
too fast, "Taa-louse", like it's a dish
served with a side of coleslaw, but they
weren't married on an entree, rather on
"Too Loose", in true New Orleans style that
you can't see through the your TV screen where
announcers repeat the words "refugees", no
matter how many times you rub away the smudges,
you can never feel the heart of New Orleans
until you've rubbed her mud on your feet

And I have found myself wishing for the
narrow streets that at once all seemed to look
exactly the same, now they have a personality
so much different from the aerial shots
plaguing TV screens, showing you how everything
looks when you have no connection, no memory
no idea of the places where ladies wore gloves
and hats and "dirty danced the nights away"
in a city that hasn't slept in years
every second is a memory to New Orleans.