Allysa



Member Elite
since 11-09-1999
Posts 2307
In an upside-down garden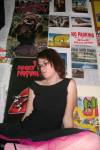 | | |
| --- | --- |
| 0 posted 01-29-2004 01:21 PM | |
---
Intimidated emotions and you don't notice
my imperfections, you don't see my
bad side, you don't understand my incredible
lack of courage, or why I wouldn't just
stand up and scream, express myself.

You are noticeable, I blend in.

You see me, and you could never
understand why anyone would think I
was anything but beautiful, anything
short of incredible, I'm "awesomer",
you say and I blush.

I want to ask you,
which tastes better
a raindrop, or a snowflake
when you catch them on your tongue-
are they better when I'm around?

Obviously, I am stuck inside my skin.

I'd invite you in, but there's barely any room
to share mud puddles, and kickball games,
your face wet with the rain, I'll take you
home with me and make you hot chocolate,
I'll keep all my promises, I swear.

I want to kiss your face.

Broken pieces shoved inside this almost
realistic plastic looking glass and you
are home to me, I just could never speak it,
could never make it real, I want to keep you
in the bathtub like I say I will.

Let you live here forever with me.

If you want to, you can stay and I will
make myself home for you, I will tell you
all the secrets, and you will smile at me,
like you always do, and I will forever
wonder why I always keep my mouth shut.