Sunshine
Administrator
Member Caelestus
since 06-25-99
Posts 67715
Listening to every heart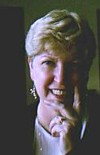 ---


Touching the Looking Glass

Touched the looking glass today

and my name isn't Alice

Fingertips clinking
vitreous silver
but the image
wasn't me…

imagine my surprise!

It was you looking out
fingertips clinking
vitreous silver

Alice would have liked this!

Amazing how
the touch clinked at the
same instance

Thought waves waving cross
acres and acres
miles and miles
bringing smiles and smiles
through the looking glass

making a winter day warmer and brighter

I couldn't hear you
but heard soft laughing on the wind
and knew it was you…

For I was softly laughing too…

So much you said
in what wasn't said
but all wrapped up with a bow
in the "I understand, I know"
and the prettiest floral
scent I could ever imagine
was emanating from you…

I could just hear your voice…

Like soft old perfumed hankies,
your concern came through
and you too read
all the way through the lines…

Then you didn't let me go…

Isn't life amazing?
Can you see God's plan?
It makes me want to wake up
at 4:44 in the morning and say
"Wow"…

So, soon we shall share lines
and words and thoughts,

as if watching green buds spring forth

And lines will weave us in
and the weave will keep
us warm…

As we birth a friendship
and don't even feel
the pain.



01.18.01
Revised 02.03.02
and Reposted for a friend...