Allysa



Member Elite
since 11-09-1999
Posts 2307
In an upside-down garden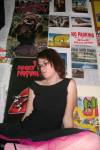 | | |
| --- | --- |
| 0 posted 10-01-2003 03:13 PM | |
---
She stares into your soul.

Mirror image of hers,
she finds a home
inside your deepest
darkest desires,
hiding she burrows into you,
and two become one.

As long as you let her
she will remain entraped forever.

Crazy crystaline structure
promises her security,
she reaches out to touch
what is not hers.

So familiar, she wants
to call you home.

If you would only let her.

Fall away with her
where time does not exist
it is irrelevent
you've got nowhere else to be
but here.

She could be your world
stand still, stop time
scratch the surface of
everything.

You are the same.

Let her have it.
Allow her to grasp it
to clutch it, to love it.

Allow her to touch you.