bsquirrel


Member Rara Avis
since 01-03-2000
Posts 8382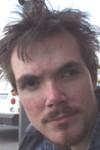 | | |
| --- | --- |
| 0 posted 09-25-2003 03:09 PM | |
---

unstitched sleeping process
promulgates in poetry. each
line responds to light's repose,
sound's unsound reasoning. if
one could hold out breath between
a clocks' eye view of surety,
one could swim the underside
of colors under glass. one could
press his face against, engaged
in all his fading dreams. the
sight is something undertaken
without want of dignity. each
sleeping line of verse upon
the page is burning in each blink.
untouched songs between the aisles,
filing toward the door. a magnet
pulling seeds of memories
straight across the unlit hours.
a voice of syllables imbued,
defining context within sound.
that holds the fading unread seams
on cue, and then he puts them down.