Sunshine
Administrator
Member Caelestus
since 06-25-99
Posts 67715
Listening to every heart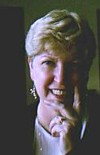 | | |
| --- | --- |
| 0 posted 09-18-2003 08:06 PM | |
---

Fingers, Pointing

If it had been once, or twice
in several weeks, or even days
I would say…

Coincidence…

"Dreams about linking with
that long-lost person pervade.
All time seems to be happening
at once, and the way you view
the past, colors everything
going on. By changing your
point of view,
you can change the past…"

so said the horoscope.

Realistically speaking, I'm told,
1/12th of the world's population
gets my horoscope.

Their horoscope.

But for 21 days in a row
mine has been
pointing its psychic finger
at me,

coinciding, as it were,
with friends, who point to
the air, saying,
in so many words, "fly!"

"carry your dreams"

and

"why are you being
so stubborn…"

I've avoided the horoscope section
some four days now…
until today.

Are there factions
out there…that just know?

Yes, they know.
I would point back at the horoscope,
demanding to know its source,
requiring of it, tell me how!

but three fingers of the hand would only
point back to me,

so, even if I were to supplicate
of the mist….

and the doors…

…but the past calls, I have
procrastinated enough…

the novel
cannot be written
by anyone
else.

Nothing I give thought to,
will be written
by anyone
else…

fingers, pointing.