bsquirrel


Member Rara Avis
since 01-03-2000
Posts 8382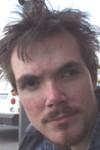 | | |
| --- | --- |
| 0 posted 09-16-2003 12:30 PM | |
---

I feel guilty about this one, because Kris and I came up with the concept as a possible duet, then I went and wrote the whole damn thing! I sowwy.


On the death of Snow White

Sharp thorns snag on pretty skin.
Glass shards from glass coffin lid
lay across her sleeping form.

Rainsoaked branches near her head
obscure what was beauty's whim.
Her lips are bright as blood.

Light a candle if you will.
Her white-ash face will not reveal
the merest hint of mind or sight.

Cradle her in warming arms.
She is beyond care or harm.
If only one bright kiss

could shake the phantom from her heart,
make her gasp, a breath to break
her dreamless, leaden, sparkless nights.

Drowning in the deepest deep,
she waits to wake, but how to keep
what once was pure in beauty's sleep?

One last try to break her bonds.
I walk away as dawn comes on.
She fades from sight. The sky is calm.