bsquirrel


Member Rara Avis
since 01-03-2000
Posts 8382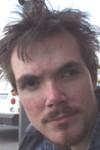 | | |
| --- | --- |
| 0 posted 09-08-2003 12:20 PM | |
---
Nothing could enhance the morning.
Sipping coffee, watching birds
make their first flights toward the sky,
spinning, wheeling, calling, gliding
across car-empty lots.

Someone spots one in their windshield.
The easy hush of morning traffic
breathing by, and gaining volume.
How many thousands of dreams a day
pass by on the freeway?

Nothing could enhance lunch hour.
Walking down the trawling streets
past barbershops and restaurants.
I still wonder on the type
of flowers dripping from stout trees

near the curb where I sometimes
stop and sit, thinking why
and how and what and the number
of words that will flit from my hands
like fireflies escaping frost.

(This is called composing poems)
Plenty could enhance the evening.
Something vast about lost light,
the dark, cold bolts
of shine and sheen

sewed shut by a bone of moon
invites a sense of trying on --
exploration through the darkness.

These costumes fall away at sleep,
as we slip into fresh seas.