bsquirrel


Member Rara Avis
since 01-03-2000
Posts 8382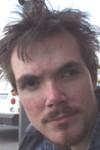 | | |
| --- | --- |
| 0 posted 09-06-2003 01:22 PM | |
---

This is a good one.
It's been a good long while
since I've had one this good.

Lurching through the sun-dappled morning
as though the light will burn me.
There's a feeling of deja vu here.
A real sense of broken circles
finding their terminus.

I'd forgotten what it's like.
All of your possessions
suddenly turning awful in meaning.
Everything's right in its place

and yet seems unsettled.
I hold onto the future
like a single board within the water,
paddling hard,
clutching for splinters.

The incurred pain will remind me
there is more to this body
than selfish desires.

I love someone, the waves will remind me.
I love her.

If I could just see her eyes again,
how they waver with grace
and blaze with new knowledge,
how they change under lights
to match a new peace,
how they tremble and wait
and want a shared trace ...

If I could just see her eyes again,
she could see mine,
and I would wade
out of this shallow pool,
into her arms.