bsquirrel


Member Rara Avis
since 01-03-2000
Posts 8382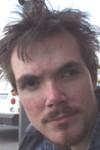 | | |
| --- | --- |
| 0 posted 09-05-2003 01:13 PM | |
---
I love a storm.
If I could,
I'd grasp the graying clouds
and hoist myself into the sky.

Soaked by rain,
my hair wind-tossed,
I'd feel a certain thrill
when lightning hit the hill.

I'd run across all the clouds
within my reach, pulling small ones
to the larger, building them
into a monster --

until they must collide in anger.
Oh, to feel the thunder rumble
to the point where I was thunder,
crashing down dark constellations.

Bright fingers would pierce the sky.
Horizons clotted with my stormshapes.
I'd build them, burst them, tumble down,
until the sunlight burned me off.

Then I'd lay,
along the ground,
slick as leaves,
lost in sound.