bsquirrel


Member Rara Avis
since 01-03-2000
Posts 8382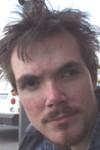 | | |
| --- | --- |
| 0 posted 09-04-2003 12:06 PM | |
---
Those never worked.
They left me with still images
jagged at the edges.
Those edges cut the light,
bled it to a clot.
I watched the highway through a reel,
jumping toward me, passing on.

Those never worked.
They tripped up my coherency.
Made altogether trival things
seem lasting and important.
But when I woke in the morning
nowhere near the highway
with the phone across my chest...

Who did I call in that moment?
What was the tone of my voice?
What did I ask for, thinking it?

The phone is made of distinct tones,
twining deftly into a ring,
a call out for attention --
for silence.

Those edges bled against the throb.
The phone was too warm, the voice within
too frightened of whom might respond.

I think what if I. Rien?
Threaded what remained with new thread.

A marionette jump-bobbing,
leaning his poor head against the wall,
a painted-on smile,
a floating gait,
his limbs collected beneath him.

Those never worked.