bsquirrel


Member Rara Avis
since 01-03-2000
Posts 8382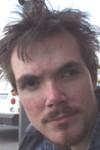 | | |
| --- | --- |
| 0 posted 09-02-2003 02:36 PM | |
---
I forced a word out of the gate,
pushing its shoulder as it dug in to stay.
I expended more energy than intended,
leaving me sweaty, and the word crying.

It yelled at me through the open window.
"Mike!" it called. "You can't do this!"
"I have friends! I know where you live!"
"I can make things reeeal difficult for you!"

I wiped my face and shut the window,
briefly entertaining an image
of the word outlined in red and blue lights.
It pouted sourly down the street.

True to its word, the word arrived
early next morning with a bull-horn
and several unsavory customers out front.
They held up signs and picketed my property.

The crowd was a jumble of letters and sounds.
Some heavy-hitters even put in an appearance.
Self-Abnegation held court with Salubrious.
This was going to get messy.

The phone jangled. With heavy heart
I picked it up. A voice yelled "Sonata!"
"Onomotopeia!" it furthered with anger and spite.
"Lists!" it finished. The dial tone.

I had no idea what to make of that.
Were these demands? A reminder of power?
Some random thoughts? A string of sounds?
Or were these words mixing medications?

"That's it!" I yelled and threw open the door
(truly, that call had rattled me).
I stalked into the crowd, picked up my word,
and hurled it as far and fast as I could.

The sight of that collection of letters
spinning away, meaningless, to the horizon
left the crowd agog, and what's more,
left me sweet silence, without a word.