timothysangel1973


Senior Member
since 12-03-2001
Posts 1749
Never close enough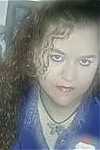 ---
How long have I been placed upon this alter?
Waiting for the blade to make contact with
my skin,

.....as if I am the last of the virgin sacrifices.

I hear the dance around me, the chanting, and
the low hollow boom of drums beating in my ear.

The witnessess only stare at me, sly grins upon
their mocking faces, they think that I can't see
them...but I can.

....what scares me most is that most of them
look familiar, which means that I have no one.

Only the blade, as it nears my skin.

"Judge me not." I want to scream.
But, I have been gagged by the
stangnant air that surrounds my mouth.

....the voices come closer, the drums
beat faster, the flames rise into the air,
and then the blade enters....

In one short slice, it is done.

But wait! I am still here, still alive,
still able to move about on the stone.

....I've not been sacrificed, but marked.
So, that all who see me will know,
that I have been face to face with
the blade...yet, someone chose to
leave me here for some purpose.

....Like Ester wore the Scarlet Letter,
I too shall travel the Earth with a mark.

This mark will uncouple me from those
that know...

...and those that seek yet to find.