bsquirrel


Member Rara Avis
since 01-03-2000
Posts 8382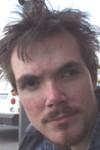 | | |
| --- | --- |
| 0 posted 08-20-2003 06:53 PM | |
---
My mouth tastes of the sky --
ashes fluttering from the night.
The dry hot lick of flames
cast along the treeline.

The horizon is a rosy glow,
a spent synapse misfiring,
shading shapes in molten throes
the light alone understands.

With the wind,
the fire moves.
Dances, sways and bursts in place --
or lays a line across the field,
surly, uninvited.

The sky at day is hot gray steel,
tinged in brown and yellow murk.
Swollen clouds building up
and spinning circles, roiling, raining.

I wake to wipe the ash away,
the fine gray silt that turns to coughs.
It outlines every visual plane.
It gloves my hands. It specks these words.

When the wind is right I hear
the sound of men, their digging tools,
their payload drops, their desperation,
as the August hillside burns.