Allysa



Member Elite
since 11-09-1999
Posts 2307
In an upside-down garden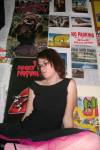 | | |
| --- | --- |
| 0 posted 08-19-2003 10:43 PM | |
---
Any definition would be incorrect.

She canít fly without her friends
needs support to launch her soul
fifty-five feet in the air to escape
the constant fears ringing
in her bell tower brain.

Who am I smiling for?

The words on the refrigerator
are simply your way of challenging
her brain from time to time.

His hands are my own.

I saw them, I remember them.
I looked upon his face and it was mine,
but different, some how.

Every wrinkle is there,
hiding a memory telling her that
everyone feels this way sometimes
but itís not the same.

Identically.... different.

He is me and I am him
though our paths have yet
to cross every feeling is alike.

What is it like to look into the face
of a stranger and see yourself?

Difference is indifferent
to the opinion of right and wrong.
And up and down are
left and right when you have to
hang by your toes to see.

When I die not a trace of me
shall remain imbedded in this world.

Instead she will gather up all of her dreams
and sow them into her heart,
traces of stitches remaning long after
the memories have faded away.

You made your mark on me.