Child of the Stars




Senior Member
since 09-07-2000
Posts 1972
Ann Arbor, MI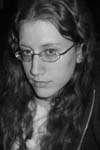 | | |
| --- | --- |
| 0 posted 08-12-2003 05:14 PM | |
---
For My Grandmother


My lady, with her hazeless eyes
and poring countenance
belonged between two tethered walls,
between two hands, held flat;
she skipped a man upon a fence
and o'er its boundless stretch
proposed a song to sunday skies
and never stopped to rest

while clouds of grain and mountained reds
flew binding to her curls,
she might have flown 'til lightning waned,
'til tin became their world;
but truth in white-streaked loveliness
clasped tight her leaping whorls.

Her husband wept like pumice-stone,
her children learned the same,
and in a blink, like dancing fogs,
her minutes grew to day,
her youthful eyes wore thick with light,
her auburn curls to gray.

With each soft step, a grace bestowed
itself upon her toes:
therein still hides a thirsting girl
whose love waits sunned and rosed--

And when the steady glow of morn
creaks slowly into view,
She will float headlong
into the deep aspiring blue.