Allysa



Member Elite
since 11-09-1999
Posts 2307
In an upside-down garden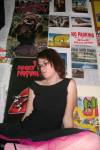 | | |
| --- | --- |
| 0 posted 08-09-2003 03:21 PM | |
---
Not yet old enough
to face the darkness,
alone she wanders through it,
its sharp teeth nip at her everynight.

Shadows no longer startle her,
no, it is the sky,
as empty as a forgotten love,
that disrupts her calm stare
capturing her curiousity
and driving her away.

Whatever it was, she lost it
through the tunnel from
the hole in her pocket
to the incision in her heart,
it slid away like soap,
or perhaps in the form
of something much more
intangilble to her.

She presses her nose against a window,
her breath leaves a layer of fog
in the artic touch of winter
and she belives that maybe,
if she leaves an indent
they will remember her for who she was.

Someone needs to grab her hand
pull her out of the frigid frost
but no one's willing to stick out their neck
to save a girl from the invisible,
not even an umbrella can keep out
the sugar coated rain in this world,
there are too many holes to cover up
and simply not enough plaster.

She's too bland to be remembered.
Everything is something and nothing
in this fantasy world where
the temperature is always freezing,
she wears the snow in her hair,
a crown adorning what remains
of a distressed and torn girl.

The only thing she left behind
was a breath mark on the window,
with an imprint of her scoured face in the ice
she's the one no one wants to see
and they won't notice that she's left,
until the smudges fade away.