PoetryIsLife






Member Elite
since 10-27-2001
Posts 4115
...in my boxers...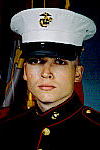 | | |
| --- | --- |
| 0 posted 08-04-2003 03:36 AM | |
---
Note: I'm not sure about a title for this one. Any ideas, let me know.



Untitled

Desire and want mesh in the dark regions,
as you wonder if you are right, or if you are wrong.
You brandish your weapons against yourself,
wanting to find the answers to the questions,
the questions which plague your mind and soul.

Moral boundaries and consequences are wrought
with passion within you, as you face the reality
of a future of uncertainty, that which you once
confidently thought secure and solid no longer so.
You realize you are lost, floating in this life.

You past rears it's haunting presence about you
now and then, here and there. You feel it breathing
in the crevices of your being, you know it will
always be there with you, as certain as each coming
moment, whether it be one more or your last.

Your foundations crumbling, you stumble on,
seeking to stride confidently as you search out the now
and the soon to be. The future will come, and you
will be there. Seeking truth, seeking yourself, and
most of all, seeking reality as it truly is for all.