bsquirrel


Member Rara Avis
since 01-03-2000
Posts 8382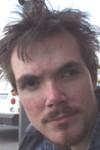 | | |
| --- | --- |
| 0 posted 07-18-2003 01:06 PM | |
---

We need mushrooms,
yes, and some kohlrabi.
Please remove the greens.
Thank you.

Let's go over here.
I think they have large eggs.
Excellent. Would you like strawberries?
Oooh, look at these plums.

Some celery would be nice.
And fingerling potatoes.
That woman, damn, look, she bought
the last bunch of white carrots!

Well,
we need cilantro.
And red swiss chard, crisp.
Yes, I see his stand.
Don't be fooled by him.

He claims his dried persimmons
dipped in fresh-ground cinnamon
and steeped in boiling tea
make a great dessert.

I've tried that, per instruction,
with his own persimmons.
The fruit had no flavor at all.
The tea was weak and mild.

He also has some gouda,
and that is much more tasty.
Still, do not trust him,
though his price is fair.

Before we go, let's stop here
and buy some pork tamales.
Yes, please green sauce only, please.
Mike, help me with these bags.