Allysa



Member Elite
since 11-09-1999
Posts 2307
In an upside-down garden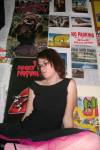 | | |
| --- | --- |
| 0 posted 06-05-2003 12:49 PM | |
---
Too many pancakes to flip
and she can't reach them all
or maybe she's run out of spatulas
like she ran out of time
and lost all capacity for love.

Her life is stiched bacwards
and inside out, it hangs from
the cloud she carries over her head
and slings over her shoulder
filling it with books to heavy to carry
without some help.

Dirty hair she fiercly pins down
smearing paint with the blood
from the spot on her chin
she did a search on google
for her life and found out that
she never had one.

Sadness and despair
never mattered much, if she takes the time
to analyze the situation she would realize
she used him to find the dandylions
hidden within the rocks making lumps
in her blood stream, she still needs his
hand to hold, needs to hear his voice everyday
so she makes routine calls to him
just to reassure herself that her lifeline is still there.

Co-dependent syrup on her sticky pancakes
covers her fingertips, dripping into the mess of
blood and paint, the realization disappears
and she attempts to make sense of the motions
that she goes through everyday, not wanting to
notice that once you realize it, you can spot the
ones with no hope from a mile away.

In a world full of dreams, you learn to live sea sick.