sea_of_okc
Senior Member
since 06-15-99
Posts 595
Oklahoma City, OK, USA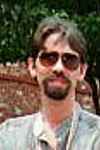 | | |
| --- | --- |
| 0 posted 05-23-2003 09:44 AM | |
---

Slogging through this dense swampland
Half blind in the swirling fog
Picking my way with sword in hand
Through the seemingly endless bog

Recalling the tales from my youth
Of creatures most fearsome and fell
Wondering how much could be truth
In all of the stories they tell

Each tangle of vine to boot
A demon from past to claw
A stumble of my foot on root
Enough to cause clench of jaw

As each shadow adds to fear
Those stories of old do spin
and my heart would have her near
in this fight I now must win

In my mind is her fair face
And though my path may wend
I shall survive this frightful place
To claim her in the end

Tis said that nigh a central pool
Does live horrendous beast
Thoughts of glory led many a fool
To become said monster's feast

Yet in its lair there lies a key
To open up the door
To treasures I would take for me
Such is the oath I swore

Upon the break of suns sojourn
Twilight brought darks deep
I faced the monster and forlorn
Prayed my resolve wouldst keep

With a roar and stench of breath
The scaly beast did rise
Naught to fear but my own death
I charged straight to it's eyes

Much too close to gaping jaw
I tried to swerve aside
Snatched into it's crushing maw
My armor pinched my side

Inside its nose my sword did creep
And through my haze of pain
I jammed it in to elbow deep
And reached it's tiny brain

A trembled shudder did the rest
As I was cast aside
To fall upon a golden crest
That pierced my now bruised side

Battered bleeding did I lie
Beast flailing in death throes
Sunlight filtered in my eyes
I painfully arose

As I swayed upon my feet
The swamp did drain away
With the monster's last heartbeat
There came the break of day

Magically the land transformed
It's death a curse did lift
I stood in meadow sweet sun-warmed
An unexpected gift

Hoofbeats sound from the east
It was my faithful squire
Stopping short beside dead beast
His eyes grew ten times wider

Into the lair ventured we
To see what might await
On the floor a golden key
In back an iron gate

Through the gate inspiring awe
A massive treasure trove
Jewels and gems and gold we saw
Into the piles we dove

Thoughts of her began to flood
Into my sodden brain
With the treasure of this place
She might be mine to claim

So I took what I could hold
And mounted up to ride
Onward to my home of old
To claim my princess bride

Standing soon before the king
My tale completely told
He says "What a wondrous thing
Sir knight so brave and bold.

All accolades to Sir Ronsea
My noble faithful knight
My daughter's hand I pledge to thee
And we shall feast tonight!"

The king bequeathed us all the land
That once was swampy mire
I built a home and took her hand
Fulfilling my life's desire
<!signature-->

Steven Seaman
In every heart there is darkness else how could we know light?