Sven



Member Laureate
since 11-23-1999
Posts 15611
Lansing, MI USA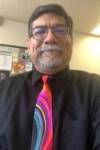 | | |
| --- | --- |
| 0 posted 05-16-2003 12:55 PM | |
---
like I said, the more introspective stuff. . .

silence does not echo

for silence to echo, it must first speak
it must speak in that psychic language
whose lexicon cannot be taught, but must be learned

silence does not speak

for silence to speak, it must first have a voice
a voice to carry itself across the domestic chasm
one that seems to grow wider and wider as final nights descend

silence cannot be heard

for silence to be heard, there must be ears
ears to filter out the noise of questioning existence
and to know that what is not said is not what is said

silence does not echo

for silence to echo, there must be walls
walls to lengthen and widen the sound of light
and, for a time, to hide what need not be seen

but, there are no more walls
nothing more to hide from the searching silence
nothing more for it to echo off of
when there's nothing left to be said
nothing left by the final realization that the silence had quieted

and that I can only feel the rain

--------------------------------------------------------------------------------
<!signature-->

To the world, you may only be one person. But to one person, you may be the world.