bsquirrel


Member Rara Avis
since 01-03-2000
Posts 8382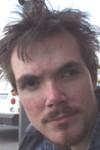 | | |
| --- | --- |
| 0 posted 10-14-2002 03:52 PM | |
---

Words are broke.
They whinge. Brown coins
lifted from corpses' suitclothes.
Investigate the sun
at morning;
a poem's distance,
atremble.

Thoughts are broke.
Pour the cups.
Drink your desert,
hourglass.
A twitch of sip.
Rim salt and sand
in silence,
serve me bitters.

Songs are broke.
Can't mask their hurt.
Tunings, dead
and lively still.
Find me books.
I want to read
her calm. I want to spread
her sadness.

Patterns broke
by setter's strike.
The center point
is pulling type.
Shatter stones,
and spread the creek.
Stream river's flow
keeps following.