bsquirrel


Member Rara Avis
since 01-03-2000
Posts 8382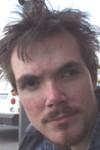 | | |
| --- | --- |
| 0 posted 10-02-2002 12:48 PM | |
---
The sides of cipher dice:
heart. (hope)
mind. (sky)
mouth. (flesh)
eye. (sight)
black. (shadow)
light. (soul)

Toss two:
heart-eye, (hope, sight)
mouth-light, (flesh, soul)
mind-black, (sky, shadow)
eye-mind. (sight, sky)

Toss three:
heart-eye-mind; (hope, sight, sky)
light-black-eye; (soul, shadow, sight)
eye-mouth-black (sight, flesh, shadow)
light-eye-eye ... (soul, sight, sight)

Toss until you see
their words.

Now write.