bsquirrel


Member Rara Avis
since 01-03-2000
Posts 8382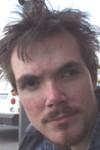 | | |
| --- | --- |
| 0 posted 09-04-2002 04:15 PM | |
---
Witch's sip of starlight
gave birth to moonlit pond.
Witch's sip of cold air
brought color to what dawned.

Witch's sip of dead leaf
placed green among the ground.
Witch's sip of briar
spelled roses by their sounds.

Witch's sip on lattice
sat spiders on the glass.
Witch's sip on gravestone
gave name to a new past.

Deosil.
Windershins.
Exeunt.
Avant.

The preceding was inspired by a serenity challenge. I did one for Whip stitch, but brian sites, in his response, changed it (intentionally) to Witch's sip. So here's that, too.

[This message has been edited by bsquirrel (09-04-2002 04:32 PM).]