bsquirrel


Member Rara Avis
since 01-03-2000
Posts 8382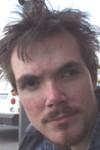 | | |
| --- | --- |
| 0 posted 05-14-2002 02:43 PM | |
---

Here's my attempt at pumpin' some life inta this place. It's based on a song by the Cure called "High." A cute li'l love song. Here's my response....



-When I see you-
When I see you
up in the sky,
I reach out to hold your cloudy hand.
I come away with blue blue air,
the autumn wind
and summer sand.
When I see your
face in a pool,
I dive down deep --
deep as I can.
I find a dime but not your lips.
Just this change without a plan.

And when I have the time
I cannot find the secrets of your name.
I picture your wet and empty eyes
that held onto the same.

When I see your
curves in the hills,
I slow slow down
and climb outside.
When I see your
smile in the sun,
I stare up to
until I'm blind.
When I see your
veins on a map,
I go down a ramp
and lose my way.
When I see your
head in my lap,
I shiver and shake
and look away.

And when I can I think
of the sometimes when we were careful free.
I think I loved you most when you were here
and not a ghost to me.

Oh you, oh you.

And when I make a mess
and second guess the intents
of your love,
I turn into the sky.
I'm looking down at you
from so up above.


Take THAT, Open.
<!signature-->

She said burn ... together.
-TON

[This message has been edited by bsquirrel (05-14-2002 02:56 PM).]