EagleScorpion
Senior Member
since 03-08-2000
Posts 1705
Here, Now, Forever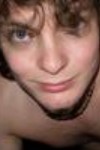 | | |
| --- | --- |
| 0 posted 11-25-2001 10:28 PM | |
---
Clikkity clock, goes the tock,
Bareefing a pungent barang.
That slickity slick rangs the blickity slock,
And hovers my lead with a yellow tube sock.

But whosits a whatsits a howover huh?
Ungleaming a seeming in fanchally won,
But howsits a whensdaze a whereunder bluh?
Undiepants, Undiepants, Undiepants, duh.

Farang- a farang, oh that lemon meringue,
Oh that clickity sweet yellow tang!
That ringidy ring on my headidy head,
With a yellow tube sock it hovers my head.

Tickity tock, goes the clock,
Unleashing a noisy brrrRRRAAAANGG,
I get sickity sick, bang the clickity clock,
And finally I'm awake..
"Yaawwnn....boy that was a wierd dream."
<!signature-->

Love is God. Love is war. Love is what your life is for.