Sudhir Iyer
Member Rara Avis
since 04-26-2000
Posts 7206
Mumbai, India : now in Belgium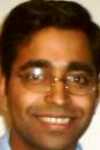 | | |
| --- | --- |
| 0 posted 11-16-2001 08:40 AM | |
---
Have you ever noticed
the despairing hurt look
on the face of the cat
who just misses his mark
by a tiny whisker
when he pounces upon
a tiny squeaky mouse,
in a measured manner
and the wily mouse moves
half a foot to the left
and wiggles his tiny tail
flashing a beaming smile
blinking his shining eyes
almost innocently?

I think I must rent a
"Tom and Jerry" movie
to watch tonight and make
that child inside me laugh.

There is too much distress
hovering like a cloud
that is surrounding me.

Hence I command myself
to be pleased at least
for half a happy hour.
°!° °!° °!° °!° °!° °!° °!° °!° °!° °!° °!° °!° °!° °!° °!° °!°

By some mere coincidence, this formed 24 lines... and there are 24 hours in a day...

Well, my scientific education tells me a day is 23 hours and 56 minutes... but then I brush that piece of education away, that simply complicates things...

Well, I continue to be intrigued about the happy hour...

Let's me keep drinking the water of life and see what's next...

For those who think I am balmy (maybe you are right):
It started here: http://piptalk.com/pip/Forum52/HTML/000007.html
Then there was this: http://piptalk.com/pip/Forum52/HTML/000063.html
and http://piptalk.com/pip/Forum52/HTML/000129.html

I think these all are linked to the search for the happy hour... well, I am crazy, right?



<!signature-->

"I was born intelligent - education ruined me"

[This message has been edited by Sudhir Iyer (edited 11-16-2001).]