Auguste






Member Ascendant
since 02-16-2000
Posts 5326
By the sea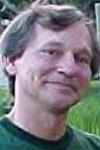 | | |
| --- | --- |
| 0 posted 10-04-2001 01:39 PM | |
---
Each Moment Precious

by Michael


And there it rests against the wall,
the chair that last night's passion held
and there the bed where they did hold,
so closely that they seemed to weld.

But now so empty does it seem,
this room where hearts aflame did touch,
where whispered words in dark were spent.
Oh how he misses her so much.

He traced her form in their embrace
and found he could not leave her eyes,
as gently did he kiss her face,
while listening to her sweet sighs.

So short their time within the night,
each moment precious and so few
and each a treasure for the heart.
Such little time, so much to do.

As night moved closer to the day,
she had to leave the nest they'd kept.
They talked until it almost light
and neither one of them had slept.

He slides beneath the sheets to sleep,
breathes in the scent she left behind
and closes eyes to once again
be with her loveliness in mind.

<!signature-->

Michael Auguste~
There is more depth to the heart than the mind can comprehend and it only has boundaries when we choose to fence it in.