Auguste






Member Ascendant
since 02-16-2000
Posts 5326
By the sea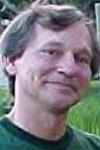 | | |
| --- | --- |
| 0 posted 08-31-2001 02:16 PM | |
---
Resting in Unrest

by Michael


Resting in unrest,
he gazes out the window counting years.
So many, too few, time draining, mind straining,
he measures all he's done
and finds it not enough.

The years passed sneakily,
as if barefoot,
but the last two,
like a drunk,
stumbled and loudly stomped the floors.
He is alive.
Pain reminds him daily of that truth.

He wonders at the years ahead,
looks upon memories of those now lost
and finds
the images would fill
less than one album.

Peace at any price is not peace!
His peace was a compromise
and now with time draining,
mind straining,
he understands that all too well

Not enough done, seen, learned
and not enough hands that were held
in moments of need.
His fault and his missed moments,
missed life.

And so, he sits resting in unrest
and counting years,
but has yet to count the tears.

<!signature-->

Michael Auguste~
There is more depth to the heart than the mind can comprehend and it only has boundaries when we choose to fence it in.