Auguste






Member Ascendant
since 02-16-2000
Posts 5326
By the sea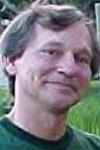 | | |
| --- | --- |
| 0 posted 05-25-2001 06:16 PM | |
---
My Lincoln Rocker

by Michael


A chair,
just a simple chair, really.

A Lincoln rocker
where I read to my son
when he was a baby.

I used to feed him with
a bottle
and then gently bounce him
on my knees to bring a burp.

This is where I was sitting
as I saw him take his
first steps.

One of the wooden arms
bears tooth marks
where he tried to soothe
his aching gums.

I never wanted the damage
repaired.

Sometimes I feel those marks
he left and it causes me to
remember.
I can't help but smile.

It's only a chair,
but to me, a treasure,
for this chair has known
so many peaceful
and loving moments
betweem father and son.<!signature-->

Proust-
"Love is space and time measured by the heart"