Auguste






Member Ascendant
since 02-16-2000
Posts 5326
By the sea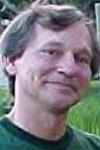 | | |
| --- | --- |
| 0 posted 05-14-2001 04:03 PM | |
---
Remember Me

by Michael


When flesh shall pass
and footprints are no more
upon the sandy ocean shores,
remember me.

Box the poems and store the art,
for I was more than these.

Your comforter,
your closest friend,
I taught you how to dream.

I closely held you as you wept
and calmed your fears.

Through me,
you learned that life's
a precious gift
and hope prevails.

When nights are laced
in heavenly display,
remember lessons that I taught.

All feelings,
no matter what they are,
have value.

Everyone
is deserving of respect.

There is no color
to the human race,
we're all the same.

I lit your candle with my own
and smiled as I watched you glow.
Always share your light with others
and bring joy to their lives.

Know that fear once conquered,
is courage grown.

Remember me,
your father.
and how I loved you so.


<!signature-->

Proust-
"Love is space and time measured by the heart"