Auguste






Member Ascendant
since 02-16-2000
Posts 5326
By the sea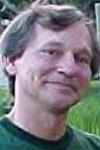 | | |
| --- | --- |
| 0 posted 03-30-2001 04:33 AM | |
---
Moan and Sigh


Shadows move,
coil
about my
hurting, fragile form
as soft starlight seeks
to dance
upon these eyes once more.

Eyes that have turned their look away.

Fallen,
wounded in the grass
by fate's
unwelcome visit.

The outward moan,
the inner sigh.
The tears
that I will not
let cry.

There with hands that clutch
at weeds
and
this is life,
now
such is me.

Fireflies dart,
give birth to stars their very own.

These stars are mine,
closer,
ones
that I can reach.

Sodden back,
the stealthy dew upon my face.
A way of life
that I now know
I must embrace.

On legs of thorn
and
trembling branch
I rise
and move about
this night's caress.

I catch in flight
a firefly
and gaze

a star witin my hand.
<!signature-->

Proust-
"Love is space and time measured by the heart"