Eromyna
Member
since 11-29-2002
Posts 310
Pheonix, AZ, USA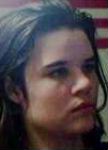 ---

In my daydreams, Katie got away. In reality, I watched them drag her down. I watched them hold her, seething and panting for breath, and force her to sumbit. I watched her run for it, out of sight. I couldn't help but look, just to see if she was alright. But there they bound her in the night, wrapped their fists around her tight. It was all I could do to cry, with aching gaze, to walk on by.

In my daydreams, I slipped off alone, after Katie disappeared. I found her hiding, called her name, and hoped that she would let me near. But really, even though I hate it, Katie rocked beneath their grip. She burst apart and inside-out, I know they dragged her home with them. If only I could sit and ask her, like a child, eyes wide with want, for what she thinks she's running after, what she thinks she hasn't got.

In my daydreams, I took Katie home. She's sitting there, across from me, feuling my indignant weeping. I was once confined like she. But really, I make no proposal, how to help her out of there. I hang my head and drag my feet, and wipe the teardrops with my hair. If only I could make her stronger, tell her with that stinging glance, that I would help her, set her free, if only I could get the chance.

In my daydreams, I watch Katie wither, daily in my memory. And beg her not to hate me any; I'm as powerless as she.<!signature-->

"I don't need to scream for you to deem me aggravation."