Eromyna
Member
since 11-29-2002
Posts 310
Pheonix, AZ, USA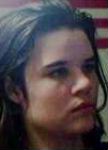 | | |
| --- | --- |
| 0 posted 09-16-2003 01:34 PM | |
---
I wrote this poem a long time ago, on my old computer. And, right after I typed it, the computer died. When I booted it back up, there was nothing left, so I quickly wrote by hand all the lines I could remember, but they were all mixed up and some of them were missing entirely.
I've finally fixed most of the confusion, but there is one line that never came back to me. Now I'm asking your help to fill in that void. If you have any ideas for what to put in the blank line, please suggest them.
~*~*~

Black and blue eyes
What a pretty disguise
I'll paint the chivalry
you hide behind
I'll write the poetry
black and white lines
Bleed for us both
in a crimson design
I'll break the spirit
You drain the soul
I'll drink the tears
and you dig the hole
I'll drop the ashes
You hold the light
Fade to grey slowly
in the black midnight
I'm the pollutant
innocence lost

cold crystal frost
I'm disillusioned
You saw me fall
Rainbow's reflection
colors dissolved
<!signature-->

"I don't need to scream for you to deem me aggravation."