Fading Away




Member Elite
since 03-14-2001
Posts 4302
Lynchburg, Virginia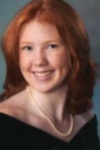 | | |
| --- | --- |
| 0 posted 04-19-2001 10:24 AM | |
---
I wrote this one a few days. I don't care for it much, but I figured it was something worth sharing. Let me know what you think:
------------------------------------------------------------

I am scrutinized.
Everyone is watching,
Everyone is whispering,
Waiting...
Waiting for me to fall down again,
In pursuit of my next unattainable goal.

"Perfection..."
It's never good enough.
Never was,
And never is.
I don't believe you anyway,
You'll say anything to make me feel better.
Liars.
I know the truth.

"Good..."
Was I?
Not me, no way.
Don't say things you don't mean.
Every day is a battle to hold my own,
And I lose.
I know the truth.

"Better..."
Not me.
Maybe them.
But they don't include the wasters.
I'm still failing miserably,
A pathetic fool.
I know the truth.

I am scrutinized
A weak,
Worthless waste of space.

--Marie<!signature-->

subconsciously, i think i can eat so much to make my stomach hurt, instead of my heart.