Auguste






Member Ascendant
since 02-16-2000
Posts 5326
By the sea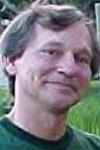 | | |
| --- | --- |
| 0 posted 02-25-2001 11:25 PM | |
---
Autumn Lovers

As autumn paints
with many hues
and chill, as leaf
piles waft their
smoke to
notrils scent,
the onset of fall
breathes
once again, another year
almost faded.

And often against this
palette
of many colors
love is found.

Two young lovers
can be seen
walking
hand in hand,
their cheeks blushed
with life
and inner warmth.

Their focus,
not on the landscape
around them
as it
catches the fire
of turning season,
but upon
each other

While sunset's silken glow
bathes them
in crimson radiance,
broken whispers
can be heard.

Warm breaths of steam melt
into the
falling day
as lips
touch,
taste,
know
and linger.

<!signature-->

Proust-
"Love is space and time measured by the heart"