bsquirrel


Member Rara Avis
since 01-03-2000
Posts 8382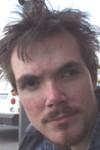 | | |
| --- | --- |
| 0 posted 01-01-2001 05:35 PM | |
---
her perfume burns my eyes,
pushes me to her mind.
it swims all around me with strange grace.

burning flowers push me to their mouths,
whispering in unsung syllables
the fragile sweetness of their unseen face.

someone sexy smoking a cigarette.
a waterfall crashing into the sky.
a sheer silk curtain twisting in summer breeze.

loose hair in suspended dance by a fan.
writing too ornate to understand.
mathematical snakes, turned in on X Y Zís.

a miniature smokestack whose factory pumps pleasure.
a breathing spectrum, seeing the world through veils.
a flag pole burning, ashes on ceramic flower

gift wrap to capture the excess, unfurling,
embers fall; the light has gone.
but memories remain to remind me of her power.