bsquirrel


Member Rara Avis
since 01-03-2000
Posts 8382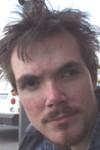 | | |
| --- | --- |
| 0 posted 06-10-2000 03:01 AM | |
---
I love being stifled.
Love having the heat of words
Drizzled to smoke.
Wave that away; get back to work.
Pretend nothing was there.

I tell ya, there's nothing finer
Than noticing dead cockroaches,
Legs against shiny bodies,
As you trudge in for yr lesson
On why you get paid for sitting in a chair,

But not to create.
Images are a waste of illogical time.
Thoughts are a spirit's rebellion --
We can't allow that in our insecure bastion.

Now, this is what happened:
A woman said "Thank you,
Your poem has inspired me to get writing again."
We don't want that to spread.
God, she must be insane, thinking that.

If instead she had said
"Thank you for your idea.
We can lay off seventeen hundred employees,
Cut wages to scraps of cheese,
And be home by dinnertime,
F'cking our ... well, that's not for these walls
To know."
Oh, if only.

I love being stifled.
Love feeling candles melt
Into, over, out of
My silent mouth --
Seal that f'cker shut, please.
It spreads disease.

I know how you feel.
I'd like to pass out myself for a few years
Without memories.