TerryW
Senior Member
since 03-23-2000
Posts 787
Louisville, Mississippi, USA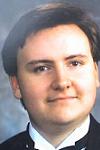 | | |
| --- | --- |
| 0 posted 06-09-2000 10:11 PM | |
---
Moonlight

Twilight softly falls
Without making a sound
The stars above are shining
Onto the dew soaked ground.

A cool breeze blows
Across my mortal frame
Whistling gently through the trees
As I wait to see you again.

The light from the silvery moon
Hails your return to me
Your beauty and your grace
Are for my eyes only to see.

Your radiant face shines
In the light of the moon
And I ask you for this dance
For I know you will be gone soon.

I gently take you into my arms
And we dance through the crisp night air
For as long as you are holding me
I am free, without a care.

To the music of the wind
Whispering through the trees
We dance the night away
Our spirits soaring free.

Oh, how I long to remain
In your loving embrace
But I know in my heart
That you cannot stay.

And so, with the fading
Of the silvery moonbeams
I kiss you softly goodbye, until tomorrow,
When I will see you in my dreams.

<!signature-->

~you reached inside, you touched my heart,
and I am all the better for it~
Terry A. Woodson, Jr.