RSEvans
Senior Member
since 10-23-1999
Posts 1187
Tulsa, OK, USA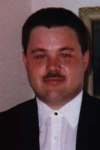 | | |
| --- | --- |
| 0 posted 06-09-2000 05:27 PM | |
---
Creeping shadow, looming close
Lengthen in dying light,
Bring on the darkness so verbose
Remove her from my sight.
Tis 15 years now man and boy
Since I have felt her touch
And still am plauged by haunting ploy
And withered cold by such.
Bring calmness to my broken heart
And peace unto my soul
And drive her memory far apart
From that which makes me whole.
Forgive I cannot, forget I will not
While still a breath I draw,
But darkness somehow fills the pot
And keeps away the gnaw.
Her flaxen hair and ivory smile,
Her skin of purest alabaster,
Will plauge me here all the while
And their memory I can't master.
But the darkness seems to bring relief
From her form and visage now,
And somehow from her I find repreave
And can be alone somehow.<!signature-->

Knowlege tempered by wisdom...Wisdom tamed by youth.