Skyfyre
Senior Member
since 08-15-99
Posts 1966
Sitting in Michael's Lap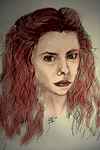 | | |
| --- | --- |
| 0 posted 06-09-2000 11:01 AM | |
---
As I seem to be suffering a bout of writer's block of late, I have decided to revive an old project of mine which entailed writing tributes to my favorite poets in the style and form of one of their most famous poems. Anyone who has ever read a smattering of poetry has come across "Stopping By Woods On A Snowy Evening," which was (obviously) the inspiration for this piece. If anyone knows the poem, they might notice that I managed to preserve Frost's end-word scheme, in which the third line of each stanza is rhymed with the first, second and fourth of the next stanza, and so on. Though this facsimile is but a shadow of the original, it captures some of the wonder I felt when reading Frost's seemingly uncomplicated yet truly profound writings. I was only seven when I first read "Stopping By Woods," and yet its magic haunts me as much today as it did then – perhaps more.

–Kess



Stopping by Words
(A tribute to Robert Frost)

Whose words these are I think I know --
His voice has long been silent, though –
He will not see me stopping here
To read his musings on the snow;

The passersby might think it queer
How simple verse could draw me near
In spirit, to that distant lake
There frozen in a bygone year;

Indulgently, their heads will shake:
Such trifling is a sure mistake.
How could a rhyme so surely sweep
One up in dreams of downy flake?

Yet nonetheless, it draws me deep
In secrets only spirits keep.
Oh, poignant poet, gently sleep:
Your hushed reflections haunt my sleep.


<!signature-->

YOUR LIFE IS A TEST

It is only a test ...

If this were your Actual Life, you would have been given better instructions!