Little_Spyro
Senior Member
since 01-09-2000
Posts 665
San Diego, CA, USA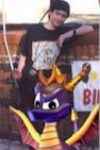 | | |
| --- | --- |
| 0 posted 06-09-2000 01:07 AM | |
---

_______________________________________________________________
On Saturday, March 11, the Year of Our Lord 2000, in the Chinese dating system the Year of the Dragon (hey, that's me!

), Little_Spyro announced that he was going to take a break from posting at the wonderful establishment known as Passions in Poetry, to be more specific, the Corner Pub.

He has officially been 'on vacation' for 88 days.
Wednesday, June 6, 2000, was the last day of school for the year, and Little Spyro T. Dragon has officially returned to active status here.

Many things have changed--the faces I see around here [figuratively speaking], the somewhat recent addition of a 7th Open forum, and the number of customers at the Corner Pub have been on a graph-oriented roller coaster ride since I left. I wasn't exactly dim and deaf to the goings on here, just much less aware...



I hope that some of the old faces I saw at the Pub would stop by sometime for a drink! I hear the root beer's been put on ice, and should be far below freezing by now!

Well, if anyone reads this, thank God for Passions in Poetry.


Little Spyro T. Dragon


_______________________________________________________________
"And...that's all I have to say about that."

-Forrest Gump