bsquirrel


Member Rara Avis
since 01-03-2000
Posts 8382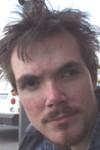 | | |
| --- | --- |
| 0 posted 06-08-2000 11:38 PM | |
---
I drove to Malibu, the rocky mud-packed sandstrewn plantworn hills
Pressing right against the road. A small whitegray steel spine
Protecting me from a drop off down the canyons.
The ground was so dark in the summer light late,
I'm sure if I exploded, the heat
Would have made the ground lighter in color, somehow.

It was like driving through chalk brown mountains,
Only not of chalk, not really of sand, not of stone.
Some element of itself, just rising from the road,
And later on, coming close to the sea,
As close as the PCH would let it.

As I went down the highway,
Suddenly caught in glinting rows of evening traffic,
I noticed there was a protective burning going on,
Up the hill.

So the sea breeze and the dryhot air
Wouldn't fuel the palms, grass, houses
Into final burning. The smoke was dark
And rolling thickly -- like hills in the sky.
I could only see a piece of the hill, the tip of it still green,
Quickly burning itself to ash and mud --
From beauty to safety. The fire the briefest glance.